Press
Best swimsuits for women: Shop bikinis and one-piece swimsuits for spring break

If colder weather isn't your vibe, a warm spring break vacation may be in your future.
To help you prepare, we've rounded up a variety of swimsuits for women, including both bikinis and one-piece swimsuits. Shop retailers like Abercrombie & Fitch, Old Navy and Maisonette as well as Aerie swimsuits and brands available on Amazon.
Plus, shop multiple styles, including high-waisted bikinis, bandeau or halter bikini tops and more flattering swimsuits. And for those who can't decide between a new one-piece or a new bikini, we also have monokinis from brands like SKIMS and Good American.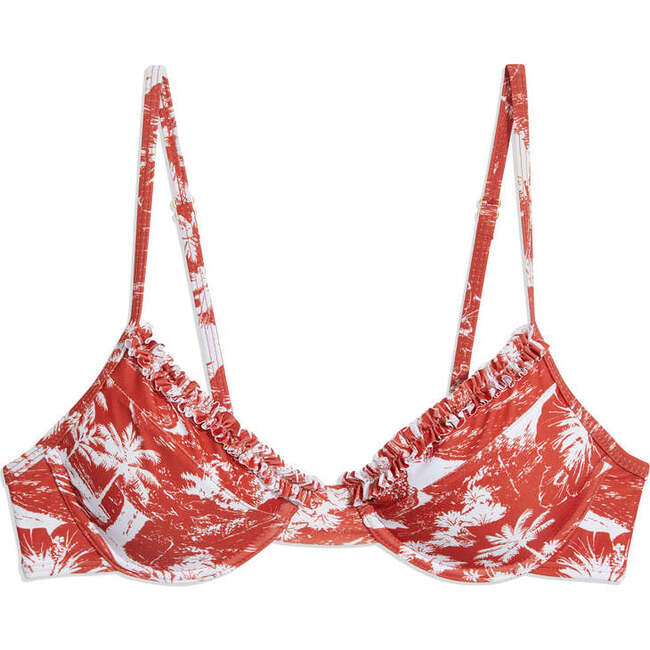 Sister Swim Women's Bowe Top Ruffle, Vintage Tiki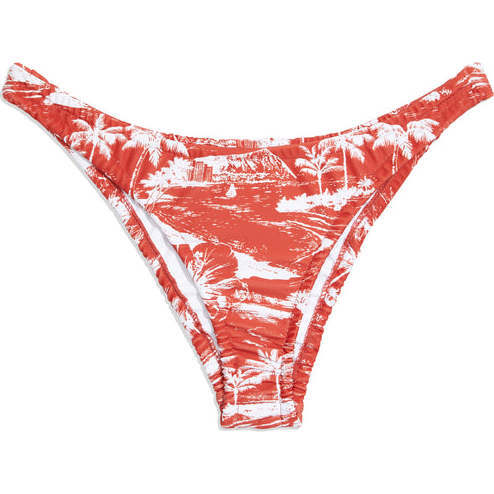 Sister Swim Women's Vice Bottom, Vintage Tiki
Look No Further: These Are the Best Swimsuits of 2023
In all of my time on this earth, I've never heard a woman say they were looking forward to swimsuit shopping. It's a task that could be put in the same category as getting a cavity filled or getting an oil change on your car: dreaded, but necessary. Unfortunately, at least some of these feelings are warranted; but in 2023, that doesn't need to be the case.
Finding the best swimsuits is like finding a needle in a haystack, and you have to sift through a lot of duds to find the best ones—until now. Sure, it's only March, but the best swimwear launches of the season have already happened, and they're enough to make us want to plan a trip so we can wear them ASAP. Gone are the pre-summer (or pre-vacation) days where you dread figuring out what swimwear you're going to shimmy off your cover-up to reveal; these are good.
This year, it's time to get excited about showing some skin and relishing in the magic that can be a swimsuit that makes you feel confident. No matter who you are or what your style is, consider your swimsuit search done.
28 One-Piece Bathing Suits That'll Make You Ditch Your Bikini
26.

 A belted swimsuit available in a stunning violet hue, so anyone who has ever looked at their beachwear collection and thought "Wow, do I ever not wear black?" can finally add a pop of color.
The Glamping Outfits To Try If You're A Fashion Girl Who Also Loves Nature
As someone who grew up in NYC (and still resides here), camping was a rare summer activity I did with my best friend's family. The initial idea of sleeping amongst deers and insects was a major mental adjustment — and even now, pitching a tent in the woods is not my first choice for a relaxing vacation. However, with the concept of glamping becoming popular in the past several years, I've finally found that sweet spot between embracing nature and having access to a functioning toilet. Plus, glamping outfits perfectly speak to my fashion girl tendencies for wanting to appear polished and cute, even if I'm about to trek through mud. True story: I once wore casual low-top, white leather sneakers on an eight-hour hike because they matched my outfit best. Surprisingly, my feet did not throb at the end of the day — and the Italian leather held up. Really, it was a testament to quality footwear.
Although I likely will not try my luck again on a hike in impractical shoes, I still stand by my own code of looking my best while out in the woods. In fact, I already have several outdoorsy activities planned for this summer, including a trip to the Redwood National Park with my family in June. Since we will certainly be glamping, I'm already planning out the perfect city-gal-meets-nature looks to wear. Step one? Speaking with Neiman Marcus' Senior Director of Women's Designer Ready-to-Wear, Jodi Kahn, at the brand's summer camp event on what one should ideally bring if they want to look fashion forward and practical.
"I think versatility [in your choice of clothing] is the most important thing, so you're ready for unexpected activities or weather," says Kahn. "[This can mean packing] a nylon jacket, a jean jacket, or matched athleisure sets or a cute printed top and shorts set [you can hang out in]."
Additionally, Kahn emphasizes that bringing "whatever you feel the most comfortable in" should be the motto to follow while you pack for your glamping experience. (If your personal tastes skew more towards cashmere cardigan than a water-resistant nylon anorak, pack it!) Likewise, for the beauty aficionados out there, don't forgo your essential skincare products if you don't have to, whether it be an SPF or a brow pencil (both are must haves in my personal glamping arsenal).
And if you find that your duffle bag or suitcase is becoming rather full, look over your selects. There is one item both Kahn and I agreed you shouldn't bring: heels. Leave the four-inch sandals at home in favor of more mud-friendly boots and sneakers. With all this in mind, you can find my dream glamping outfits below. I plan to draw inspiration from these ensembles as I pack for my adventures in nature this summer, and hope you do, too.
Oversized Button-Down + Swimsuit
YOUR DEFINITIVE GUIDE TO 2022'S BIGGEST SWIM TRENDS
There's a lot of exciting stuff happening in swimwear this season. We're seen beloved brands like Girlfriend Collective, Simon Miller and Negative dipping their toes into the category, bringing their distinctive sensibilities to the market. Meanwhile, familiar trends get clever design updates — there are six big ones on our radar: ruched bathing suits, strapless bikinis and one-pieces, cutouts, shimmery fabric, bold color and retro prints. You don't have to look too hard, though: We've rounded up some of our favorite new swim in the galleries, below. Happy shopping!
Strapless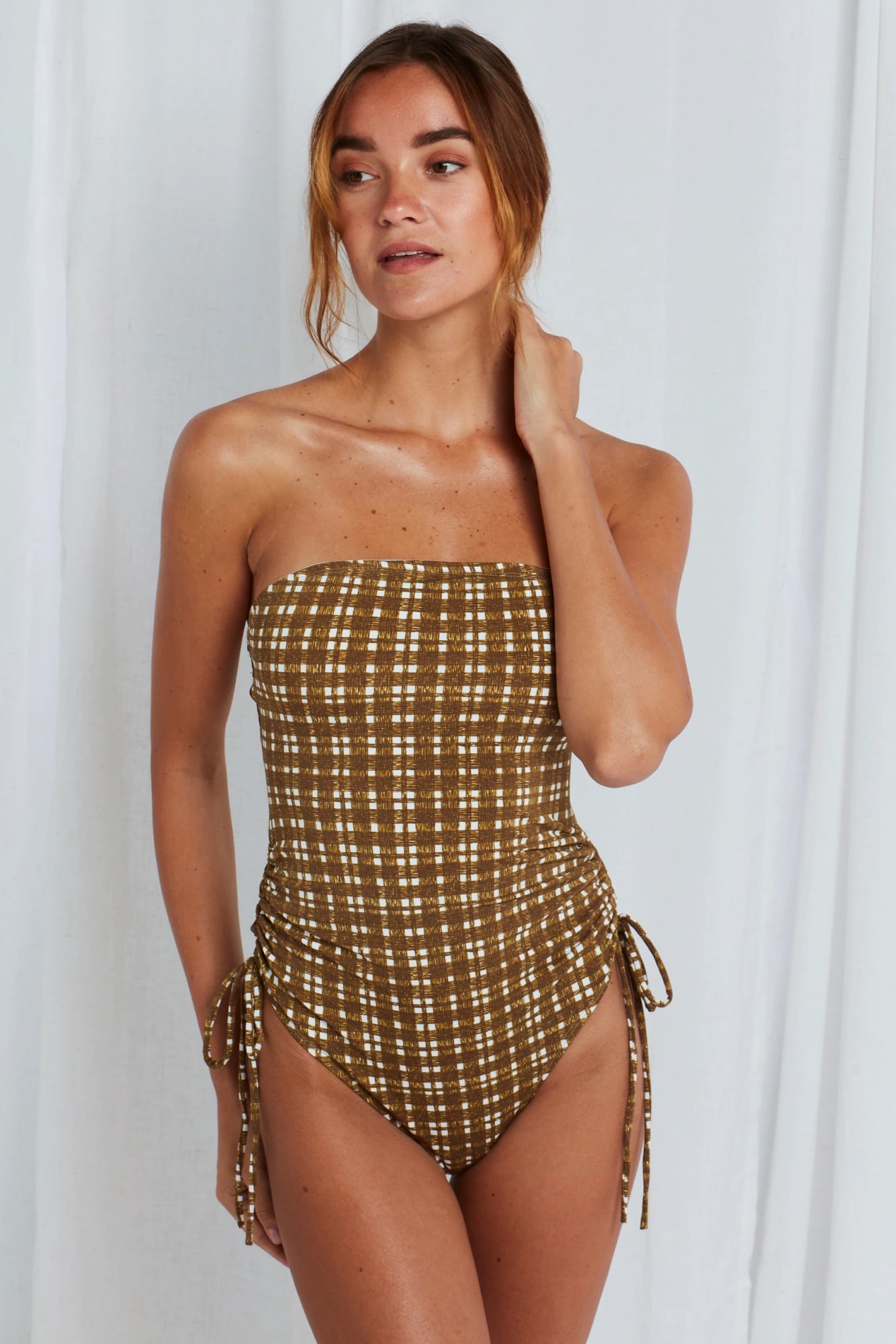 The Best One-Piece Swimsuits to Wear All Summer Long
After a long, cold and dreary winter, summer is mere weeks away. Memorial Day marks the unofficial start of the best season of the year, which also means that many beach outings and pool days are in the very near future, so make sure to prepare your wardrobe accordingly. You've surely already started pulling out your favorite linen dresses, strappy sandals and white jeans, so now it's time to check out your current swimwear situation and see what you want to add to your collection this year. While there are plenty of swimwear silhouettes out there, no summer closet is complete without a one-piece swimsuit, which truly never goes out of style.
While one-pieces were once considered the dowdier alternative to a more revealing bikini, that's no longer the case. One-pieces are flattering and elegant, and they also have the added bonus of being exceptionally easy to incorporate into your outfit so you don't look like you came straight from a dip in the pool; you can wear your maillot as a top with a sarong or linen pants, or throw on a long button-down cover-up.
Kelesheva Victoria
NEW YORK, United States of America
I'm a black and white photographer.Immigrated to United States from Moscow. Currently live in New York! I shot for CHANEL beauty and Vogue, &otherstories.
The Swimwear Trends You'll See All Over Instagram This Season
Whether you're planning a few vacation outfits or coveting new bikinis and one-pieces for weekends away at the beach, 2022's biggest swimwear trends will surely pique your interest. Like just about every other corner of fashion, from the crochet trend to platform sandals, nostalgia is driving many of the stylish swimsuits hitting the new arrivals sections. "As we're always drawing inspiration from the past, we're seeing a mix of the '70s and '90s," Juillet co-founder Lindsay Hofmann tells TZR of the latest swim trends. The swimwear designer says mod floral prints, string sets, bold ruffles, and pops of pink are among some of the freshest bathing suit trends for 2022. On the same note, Marysia designer, Marysia Dobrzanska Reeves, highlights lace-up detailing on bikini tops and bottoms for a more Aughts vibe
However, there's another unmistakable swimwear frontrunner for the season. "Textured swimwear really has our attention at the moment," Hofmann says, like her label's floral embossed Esme fabric, which has sold out time and time again and was recently worn by Kendall Jenner. "Creating this texture allowed us to take a more classic silhouette and make it special and truly unique to our brand. I think that's what brands are doing across the board — looking at how they can create a special moment."
Other prominent tactile swimwear trends include terry cloth, crochet, pleated detailing, and smocked and crinkle fabrics. Plus ruching, another '70s-inspired look that Brittany Kozerski Freeney, owner and designer of Jade Swim, says is currently among her best-sellers. "Ruching animates solid-colored styles to create a play of textures within a piece," says Dobrzanska Reeves, who also highlights the trend's prominence for 2022.
Portugal-based Medina swimwear designer Lou Medina says conscious fabrics are another big trend in swimwear for 2022 — a core pillar of her business. "As a conscious designer, I'm interested in fiber innovation, she tells TZR, pointing to Yulex, a sustainable alternative to limestone and petroleum neoprene, or Seacell™, a material that protects the skin against harmful environmental impacts by harnessing the unique properties of seaweed. "I think the best trend is mindful consumption and investing in pieces that transcend fashion," Medina continues. "Buying less but better and timeless designs."
This concept lends itself to the continued trend of classic swimwear in 2022, including the refined and perfected essentials found in Medina's Core collection. "This selection of signature styles is in stock all year and does not go on sale as we believe these handcrafted pieces will last a lifetime, as an antithesis to seasonal trends and a stance against the unsustainable pace of the industry." For extra modernity in the timeless realm for 2022, Dobrzanska Reeves says, "classic silhouettes with fun details such as a belt or cutouts give swimwear a little something extra."
Whether you're all in on nostalgia or prefer something timeless, keep scrolling to discover and shop ten of 2022's biggest swimwear trends.
Matchy-Matchy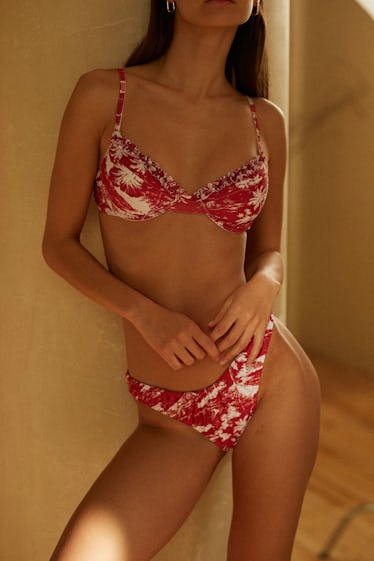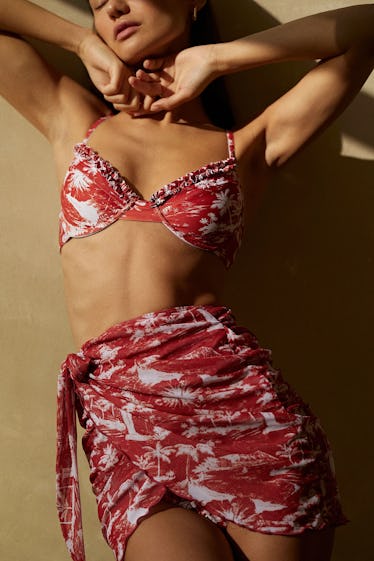 22 Supportive Swimsuits for Big Busts That Are Actually Comfortable
When you have a larger bust, finding a one-piece bathing suit or bikini that actually supports you is basically tantamount to bra shopping (and we don't need to tell you how much fun that is). Strappy styles can lead to sagging breasts—or, worse, a not-so-modest moment—but more ample material can make you look like you're ready to dive into the pool for a race. So how do you find just the right happy medium? Does it even exist?
There's good news: The perfect swimwear brands are out there. And you don't even have to dig deep to find them. To help you source stylish swimwear that's actually comfortable, we did a bit of the, err, heavy lifting here. We scoured retailers like Swimsuits for All and Amazon for the best swimsuits for bigger busts, and for a better fit, so that you are living your best life when you are soaking in the sun on your next tropical getaway.
From pretty plus-size options to minimizing athletic styles with underwire and affordable tankinis with tummy control, these flattering suits for D+ cups all deliver, so you can hit the the lake, the beach, or backyard (inflatable) pool feeling fabulous.d
21 Carter Belted One-Piece